Affiliations and Accolades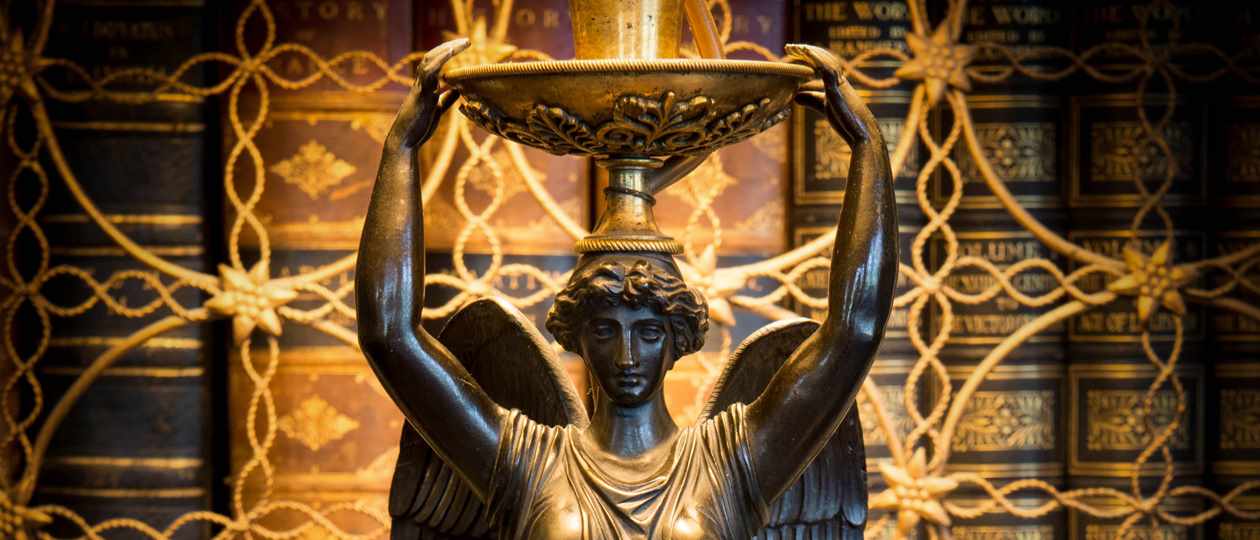 AA Rating: Awarded 4 Red Stars and 2 Rosettes, AA Notable Wine List Award 2019
4 Red Stars: The AA's supreme accolade for hotels, regardless of size or type of operation.  A hotel awarded red stars has been selected by the AA as one of the best hotels in the British Isles, offering excellent levels of quality throughout, outstanding levels of hospitality and service.  

2 Rosettes:  Excellent restaurants that aim for and achieve higher standards and better consistency.  A greater precision is apparent in the cooking, as well as obvious attention to the selection of quality ingredients.  Around 40% of restaurants/hotels within the AA Restaurant Guide have two Rosettes.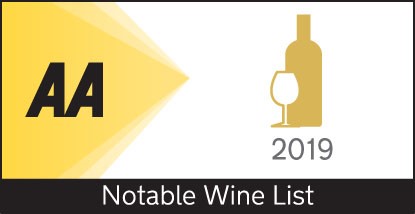 AA Notable Wine List Award:  The continuing evolution of the Middlethorpe Hall wine list gives us a great challenge, and indeed pleasure, in sourcing and tasting wines to ensure we have both balance and harmony throughout the old world to the new. Our wine list has a page dedicated to the cellarman's choice, we also continue this theme throughout the list, highlighting wines of particular merit and interest, as a guide to helping you choosing the right wine to accompany your meal.
AA Ratings explained:  In 2006, in collaboration with VisitBritain, VisitScotland and VisitWales, the AA developed Common Quality Standards for inspecting and rating accommodation.  These standards and rating categories are now applied throughout the British Isles.  In addition, out of the many thousands of restaurants in the UK, the AA identify over 2000 as the best by awarding them Rosettes for culinary excellence.  
The Rosette is an award, not a classification, and they are awarded annually on a rising scale of one to five.  AA Rosettes are solely awarded by our hotel and restaurant inspectors, whose visit is a snapshot, whereby the entire meal, including ancillary items (when served) is assessed.
Pride of Britain
Great hospitality is the key to Pride of Britain's longstanding reputation for excellence in hotel-keeping. The consortium is a not for profit organisation that belongs to its member hotels, a collection of independent, mostly family-owned, luxury hotels in some of the most beautiful locations around the British Isles – Middlethorpe Hall being one of them.
Each has its own distinctive style and character but all of them, including Middlethorpe Hall, are run by people with a passion for great hospitality, verging on the obsessional.
To ensure the highest standards of quality and comfort, Pride of Britain inspect every hotel annually.
Read More
Good Hotel Guide - Winner of Editor's Choice 2022 awards for Historic
The Good Hotel Guide is the leading independent guide to hotels in Great Britain and Ireland. It is written for the reader seeking impartial advice on finding a good place to stay. Hotels cannot buy their entry as they do in most rival guides. No money changes hands, and the editors and inspectors do not accept free hospitality on their anonymous visits to hotels. 
Please click here to read their review of Middlethorpe Hall 
Read More
Rebecca Recommends

Representation company for service focused, luxury hotels and travel related services. Today Rebecca Recommends is one of the leading luxury travel representation companies in the United States. 
Read More
The Hotel Guru

Recommended by the Hotel Guru as one of the best hotels in York
Booking.com Traveller Review Awards 2022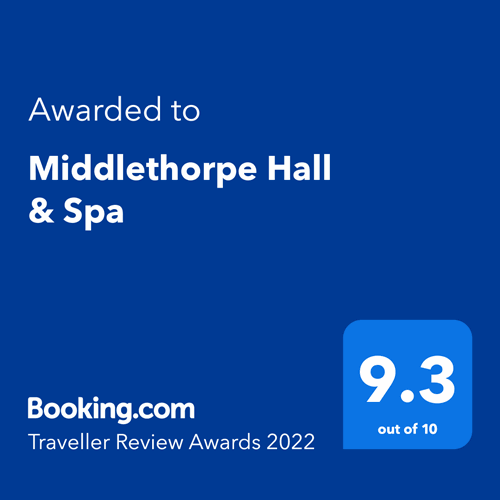 HotelsCombined 'Recognition of Excellence 2021' Award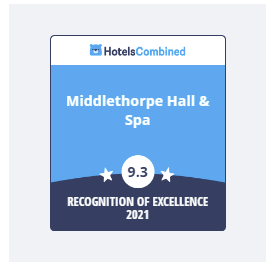 HotelsCombined recognizes Middlethorpe Hall & Spa amongst the best hotels in United Kingdom.

HotelsCombined is a hotel price comparison website that was recognized as Best Hotel Booking Site two years in a row for 2020 and 2021 by Frommer's.

HotelsCombined owned by KAYAK, has selected Middlethorpe Hall & Spa to receive the official Recognition of Excellence Award. This selection has come from HotelsCombined's extensive surveys using data from millions of guest reviews for a wide range of accommodation within United Kingdom.

Middlethorpe Hall & Spa has consistently produced a high satisfaction rating among guests and travel industry experts.

Middlethorpe Hall & Spa now joins an elite group of hotels around the world that have been awarded the HotelsCombined Recognition of Excellence. This exclusive collection of highly-rated accommodations has been chosen using a strict set of criteria such as the quality and consistency of reviews, the absence of recurring or unresolved issues with customers, popularity of the property and of course, the overall resulting score.

"We are thrilled to be working with the best hotels in United Kingdom. Middlethorpe Hall & Spa has proven its place among them with this award and its commitment to providing high-quality services to all guests," said Melinda Balazs, Hotel Awards Program Manager at HotelsCombined.

"With HotelsCombined, 30 million people are finding the best hotel deals available online every month. The HotelsCombined Recognition of Excellence Award makes it even easier for travellers to find the top hotels for customer service and guarantee the best value for their money."


For more information
Trip Advisor Travellers' Choice Award 2020